A Local Korean Florist always Service with Highest Quality and Lesser Costs.
We assure :
Right Products : Right in freshness, fashion & taste.
Right Prices : Compare us ! At least 20% cheap!
Fast & friendly Customer Support.
Highest level of Security & Privacy.

Shop in South Korea
Flower-Korea.com is an Internet marketer of flowers and specialty gifts. Established by Sense Flower, the Korea's best floral services organization, Flower-Korea.com sells directly to consumers through its Web site, www.Flower-Korea.com.
As a new generation florist, our goal is to bring our quality services to our local and overseas customers. Since established, Flower-Korea has built a regional network of florists that is able to deliver flowers promptly and cost-effectively in major cities in Korea. Customer satisfaction is always our prime concern. We hope to build a long-term relationship with our valued customers by providing quality services and products that meet their requirements and needs.
Utilizing independent Flower-Korea.com florists who adhere to the highest quality and service standards, Flower-Korea.com provides same-day delivery of floral orders to nearly 100 percent of the Korean population. Flower-Korea.com offers a wide variety of unique floral arrangements and specialty gifts for holidays and other occasions.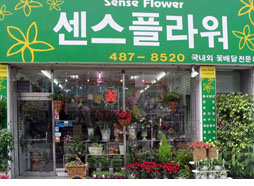 Local flower shop at DaeJeon, Korea
About Sense Flower
Founded in 1996, SenseFlower connects approximately 500 South Korean retail florists. SenseFlower can deliver products to nearly 100% of the Korean population. SenseFlower stands behind our Satisfaction Guarantee on all orders sent through SenseFlower for delivery within South Korea.

History of Overseas Delivery
As one of the first online florists for Korea, since April 2004 we have expanded our business, and have started taking orders from overseas for deliveries within Korea. We ourselves are responsible for the selection, arrangement, and delivery of the flowers at local cost (that is, at prices offered to local customers in Korea).

Want to Know More?
If you have a specific question about Flower-Korea.com or the services provided at Flower-Korea.com, e-mail us anytime, day or night.
Name of Business: Flower-Korea.com
Company Registration Number: 314-90-68287
Korea Online Sales Number: 2005-117
Contact Person (Information, Suggestions & Compliants): Customer Service
Email Address: flower.korea.com@gmail.com
Enquiry Hotline: +82-2-585-1495 , +82-42-487-8520, +82-10-5194-7037
Fax: +82 42 487 8521
Mobile: +82-10-5194-7037 (Korean calls), +82-10-9788-5949 (English text message, urgent call)
Place of Registration: Seoul, Daejeon
Mailing Address: 323 Weolpyung-dong, Suh-gu, Daejeon, Korea 302-281
Operating Hours: 9:00am to 8:00pm (Mon-Sat))
Website Operating Hours: 24 hours a day, 7 days a week, 365 day